A Rolex watch with stone leaf
Many people associate Rolex with "Bling bling", i.e. watches made of gold or platinum and often with diamonds, with rubies and other stones. Especially here in Germany, a Rolex was considered a long time as a so-called "Pimp Watch". But times have changed, Rolex has become more than just a salon capable: it is currently the absolute strongest watch brand, and the collectors are tearing around old and vintage Rolex watches, even modern and new Rolex delight many lovers.
Let's go to the year 2016. Vintage watches from Rolex boom, as we have never experienced before. At auctions, prices rise in previously unknown heights, and demand is greater than supply with beautiful old Rolex watches. Since interest rates are at a record low, people no longer know where to invest their money. Betongold is rising in value, as Rolex has developed into an almost stable currency worldwide.
Rolex watches are always something special
The history of Rolex is dominated by famous wearers from the sport and from Hollywood. So the myth Rolex is closely associated with James Bond. Paul Newman is named for the Paul Newman Daytona, Steve McQueen has given the explorer reference 1655 his name and is also associated with the Submariner reference 5512. There are fake Daytona dials that have grotesquely gotten the name of John Mayer (so-called "Mayer Dials"). The myth is stronger than ever, and no matter what the Rolex Company does in Geneva, or even if it does nothing, the myth grows continuously. For me, Rolex is the most fascinating watch brand.
Although rarity does not necessarily have to influence the value of a watch, but as in the economy supply and demand determine the price, there are Rolex watches that are still really rare. And these are certainly not the Paul Newman Daytonas, of which there are thousands.
Rolex watches are manufactured to the highest quality standards. The processes are highly perfected. Therefore, the clocks also survive 50 years and more. But Rolex is not exactly known for making complicated watches with perpetual calendars or tourbillon (which they have never done until today)–the most complicated Rolex has probably been the sky-Dweller with a brilliant and unique annual calendar. However, Rolex watches has produced with rare dials. These sheets are made of special semi-precious stones and rarely found in most cases, because the process of manufacturing is too elaborate.
Exotic among the Rolex watches: The Datejust with malachite dial
After my trip to the myth Rolex I would like to present a watch of a friend here. He's had it for a long time. And it's something special: a Datejust reference 16018 with a malachite dial. I find the clear and clean dial without the day display in this watch very nice. It highlights the clock.
Moreover, there are also many more dials of semi-precious stones such as Onyx, Rubelit, Ferinit, Lapis, which are rare. The problem with these dials is often that they are damaged after 20 or 30 years. But the hand in my friend's watch is perfect, without any blemish–it really distinguishes this beautiful datejust. By the way, this sheet is also available for the day-date.
My friend's watch comes from the 1980s. In general, reference 16018 has been made for a long time. The exact production period is not known to me, thank you, that began at the end of the 70s or early 1980, and went to the end of the 90s. The dials of semi-precious stones start with the five-digit reference, there were these sheets in my knowledge not with the four-digit reference. The Lapis sheet was also installed in the five-digit Rolex Submariner references 16618 and 16613. Very rare. and beautiful
A little excursion into the past of the Datejust: The Datejust was 1945 for the first time with reference 4467, followed by the reference 6075 around 1950. These two references are the two most coveted datejust references among the watch collectors. Good pieces are rare to find. Where a large collector in Hong Kong currently offers a few, nor does he do that privately, but I assume that he will eventually submit the clocks to Christie's or Sotheby's.
A few facts about the Datejust reference 16018 from Rolex:
Enclosure: 36 mm
Housing material: 18k yellow gold
Work: Rolex 3035
Dial: Malachite (green)
Tags: automatic clocks, date display, three-, gold watch, manufactory caliber, Rolex, Rolex Datejust, Swiss watches, vintage watches
Gallery
Rolex Datejust ref. 16018 with Malachite Dial C1980 …
Source: rolexpassionmarket.com
Rolex Datejust, ref. 16018 with Malachite dial
Source: rolexpassionmarket.com
Rolex Yellow Gold Blue Dial Automatic Wristwatch Ref 1503 …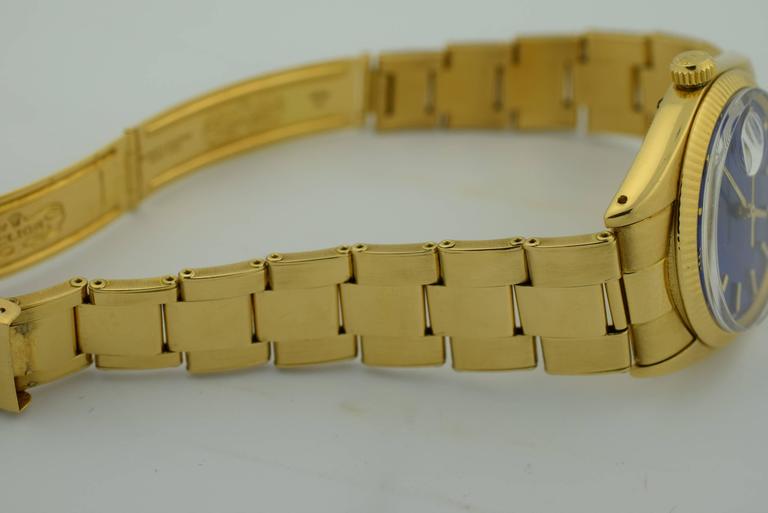 Source: 1stdibs.com
Rolex Datejust 18K ref 16018 Sapphire Blue Dial circa 1978
Source: wannabuyawatch.com
Rolex Yellow Gold Datejust Wristwatch with Wood Dial ref …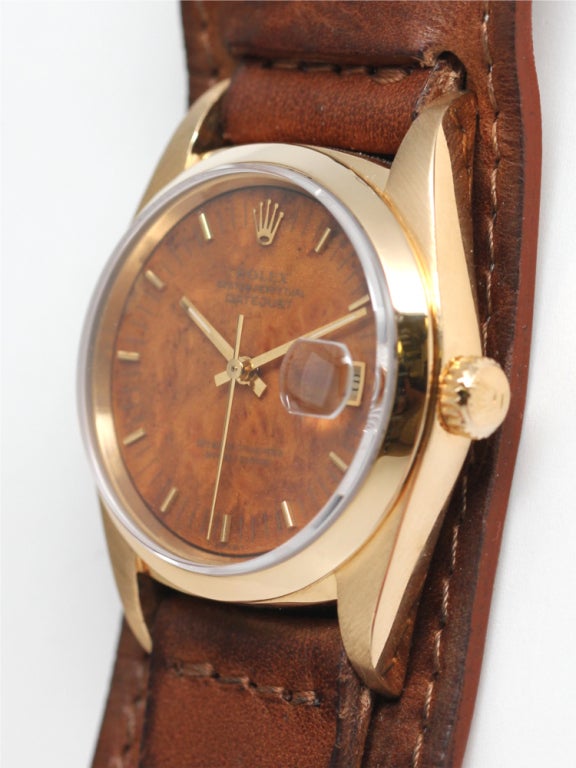 Source: www.1stdibs.com
Rolex Yellow Gold Onyx Dial Datejust Wristwatch Ref 16018 …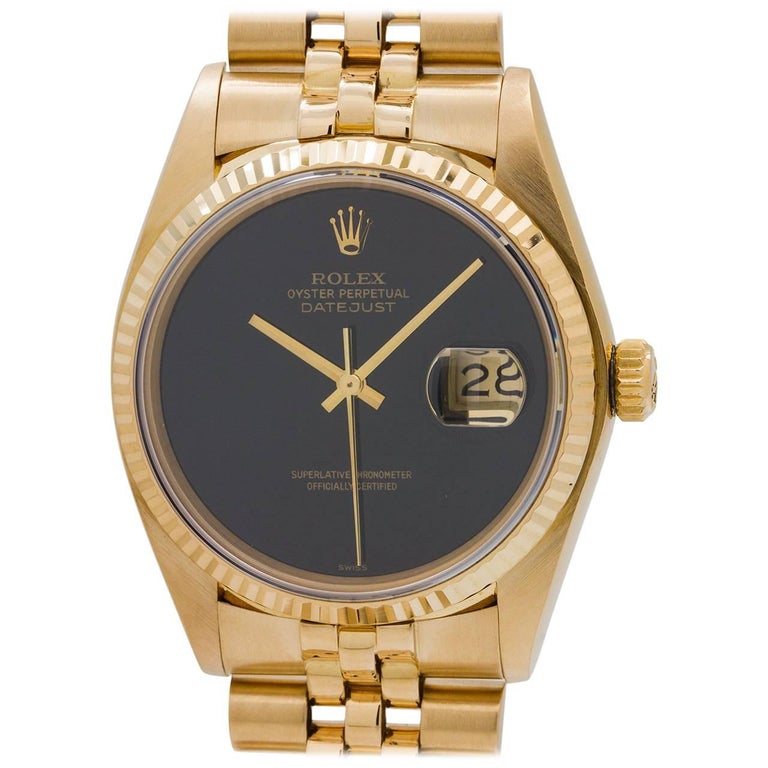 Source: www.1stdibs.com
Rolex, Datejust, Reference 16018, 18K Yellow Gold,Diamond Dial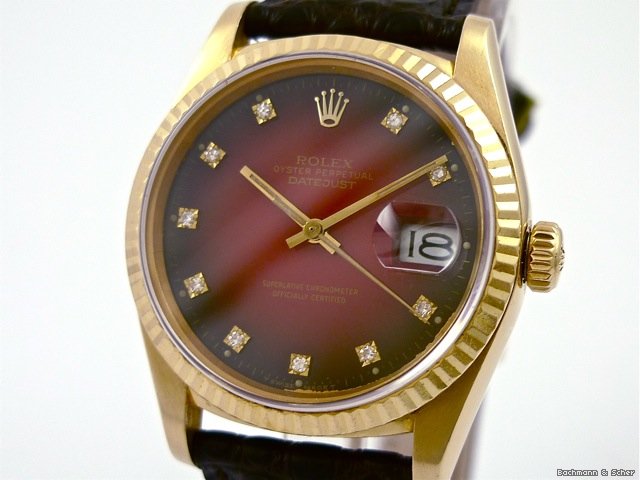 Source: www.bachmann-scher.de
Rolex Datejust 18K ref 16018 Onyx Dial circa 1980's
Source: wannabuyawatch.com
Orologio Rolex Datejust 16018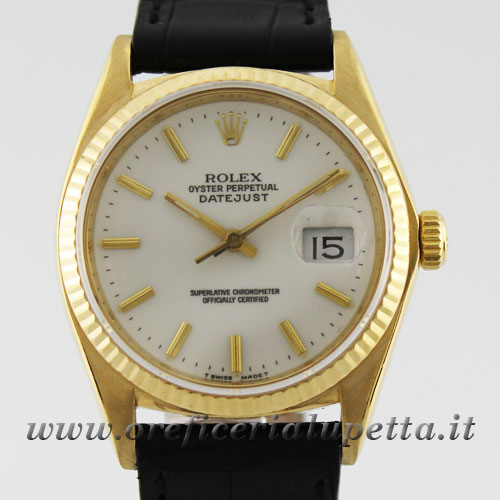 Source: www.oreficerialupetta.it
18ct Rolex Datejust with the rare Jubilee dial reference 16018
Source: www.kalmarantiques.com.au
Rolex 18k Y/G Diamond Dial Gents Datejust 16018
Source: www.watchcentre.com
Rolex, Datejust, Ref. 16018, Stone Dial, 18k Yellow Gold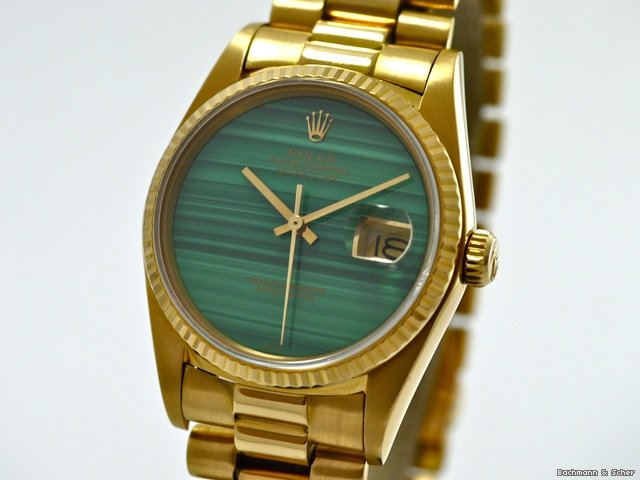 Source: www.bachmann-scher.de
Rolex Datejust 18k Yellow Gold Gents Champagne Chevrolet …
Source: www.watchcentre.com
Rolex Yellow Gold Datejust Malachite Dial Automatic …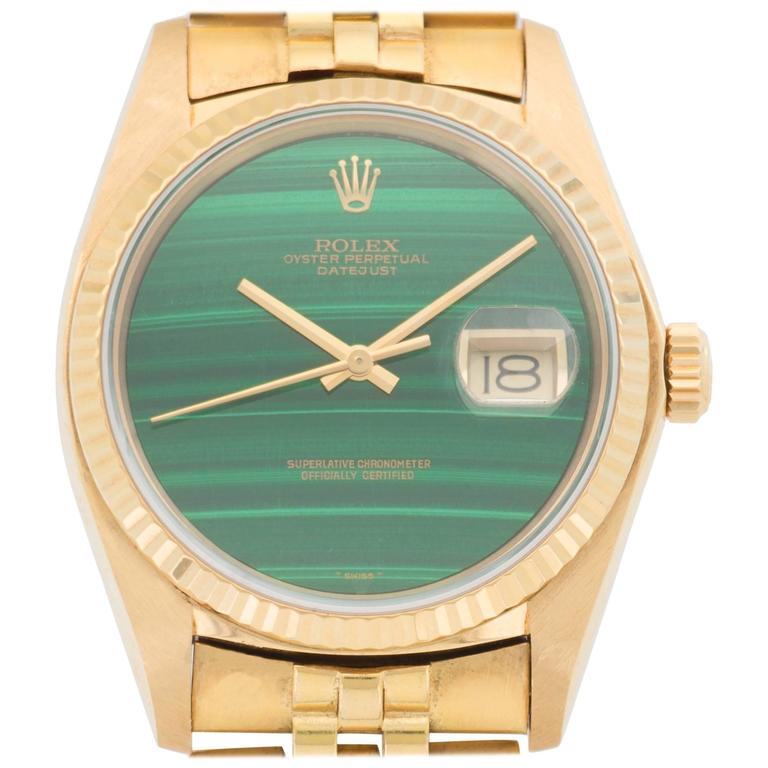 Source: www.1stdibs.com
Rolex Datejust Gents 18k Yellow Gold Champagne Dial B&P …
Source: www.watchcentre.com
ROLEX 16018 DATEJUST 18K CHINA WHITE ENAMEL DIAL :: All…
Source: robertmaron.com
VRM: FS: 1986 Rolex YG Datejust Ref: 16018 Champagne Dial …
Source: www.network54.com
Rolex Datejust ref. 16018 with Malachite Dial C1980 …
Source: rolexpassionmarket.com
Rolex Lady Datejust, Ref. 6917 with Malachite Dial, 18k …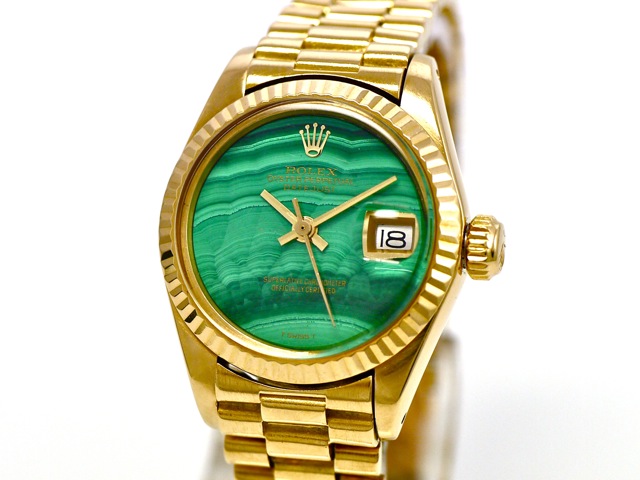 Source: www.bachmann-scher.de
VRM: FS: 1986 Rolex YG Datejust Ref: 16018 Champagne Dial …
Source: www.network54.com